Vote AGAIN! Run-Off Election for VP
Posted on by ASN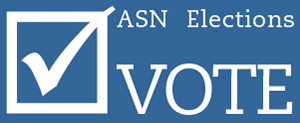 The ASN 2017 Elections are underway for tha offices of President, Vice President, and Treasurer. The election website randomizes the order for each person voting, but the names below are in alphabetical order.
Vice President
The VICE-PRESIDENT organizes the Vice-President's Symposium for the annual meeting and edits the special supplement to The American Naturalist that contains the papers derived from the VP Symposium. The Vice-President is also the Society's liaison for the organizers of the annual meeting. The Vice-President serves as a member of the Executive Council for three years, two as a regular member and one as ex officio member.
Douglas J Emlen, University of Montana
I am an evolutionary biologist and professor of biology at the University of Montana. My research provides insights into the development and evolution of exaggerated animal weaponry, such as the horns found in scarab beetles. My lab's current research leverages population genetics, genomics, and "muddy-boots" behavioral ecology to explore how and why the horns of Japanese rhinoceros beetles have changed rapidly and recently in size. From my earliest exposure to science, shadowing my father as he conducted field research on birds in Kenya, to years spent studying dung beetles in Panamanian tropical forests, to mentoring students as they spent long nights watching rhino beetles fighting and mating on the trunks of Asian trees or followed leaf-footed bugs on heliconius inflorescences or frog-legged leaf beetles on kudzu, everything I have done has been grounded firmly in natural history. As my research questions grew increasingly mechanistic, I discovered that there is a natural history to development too - a thrill of discovering how traits grow, how they take shape within the mini milieu of signals and stimuli and other traits that is the body of a developing insect. Exploring development in non-model species turned out to be every bit as adventurous as observing, for the first time, the behavior of previously unstudied species.
In addition to my research and mentoring, I am committed to communicating the excitement, importance, and relevance of basic research, especially evolution, to audiences outside of biology. At a time when science literacy is at a frightening nadir and "anti-intellectualism" is rampant, I have found I can make as meaningful a contribution explaining science as I can actually doing science. To that end, I teamed up with Carl Zimmer to craft an undergraduate-level textbook in evolution that we hoped would be vibrant, accessible, colorful, and relevant - a book that students would read because they wanted to, not because they had to. I also explored parallels between arms races in animal and military weapons - parallels that started out merely as vehicles for articulating basic concepts of biology to broad audiences, but which soon turned out to be so real, and so alarming, that they now shape many aspects of my research. This work resulted in a book (Animal Weapons: The Evolution of Battle), which won the 2015 Phi Beta Kappa Prize in Science, and led to a young adult narrative non-fiction book, which is presently in revision. I have now conducted dozens of interviews for radio (e.g., Science Friday, Fresh Air), Science Blogs, and YouTube outlets like Hank Green's SciShow, and I just finished filming with BBC Natural History and NOVA on a documentary showcasing extreme animal weapons and parallels with military technology. All of this is motivated by a desire to "spread the word" that basic research in ecology and evolution is vital, exciting, and relevant.
I like to think that everything I do embodies the spirit of the American Society of Naturalists, and I am proud to have been awarded two of its accolades, a Jasper Loftus-Hills Young Investigator Award (1997), and the E. O. Wilson Naturalist Award (2013). I have served on the ASN YIA selection committee (2009-2011), and as an elected council member of the Society for the Study of Evolution (2007-2009) and the International Society for Behavioral Ecology (2015-present).
Kelly Zamudio, Cornell University
I am an evolutionary biologist with interests in the evolutionary processes leading to the origin and maintenance of phenotypic and genetic diversification in vertebrates (especially New World reptiles and amphibians). I integrate field research in population biology, demography, and landscape/habitat change with laboratory research on the genetic underpinnings of population diversification, speciation, and conservation genetics. My most recent work, carried out with US and international collaborators, has focused on diversification in Atlantic Coastal Forest and Cerrado frogs of Brazil, comparative population genomics of New World lineages of the amphibian-killing fungus Batrachochytrium dendrobatidis (Bd), and the evolution of genetic immunity to Bd in amphibian hosts. My goal, if elected as Vice President of ASN, is to enhance the visibility of the natural history mission of the society. My planned symposium will integrate field natural history, cutting edge genomic methods, and the threats facing biodiversity on a global basis.
---